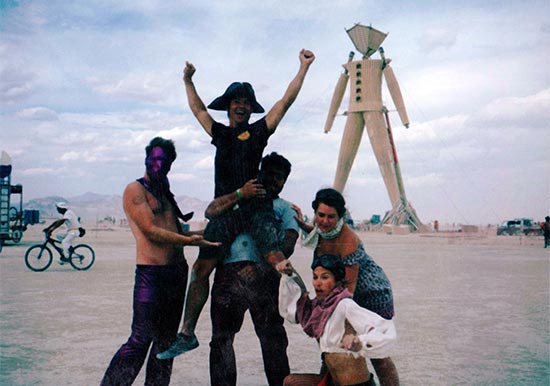 There's a subtle formula at work here:
Assemble the minimum requirements for a city.
Build it (don't die).
Invite your most adventurous friends.  Hope they like camping.
Inject all the art and technology you can muster.
Ingest the most novel substances known to man at the city's apex.
????????
Simulated Singularity
I've snuck away from the group. I'm standing alone,
keeping a lucid gap between myself and the cacophony of the city. This whole thing happened again and keeps happening and I'm back in a place where the whole notion it's possible is confounding.I realize it's why I try to perpetuate the collective experience each year and maintain such a consistent state of wonder and appreciation surrounding it. It's a strange and secret beauty.
It's ironic we (burners) go to such unsustainable lengths each year to create a sort of hyper-capitalist lifeboat to send into a barren wasteland hoping to experiment with alternative notions of culture and sustainability.
It's obviously wrought with contradictions, but the cake is still delicious, even if it doesn't blow as many minds as it used to. And it's definitely attempting to evolve outside itself despite being surrounded by forces eager to commoditize it. It's also the steadiest mirror for reflection on new forms of cultural momenta at the boiling edges of our collective reality (IMHO).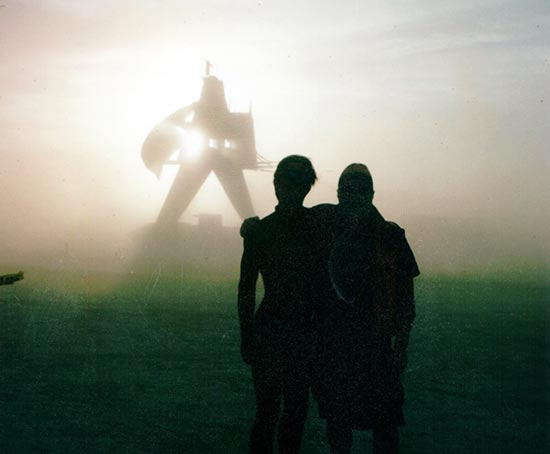 I worked too hard again. I sacrificed too much time and energy to be able to participate in the event as much as I needed. My work was still very successful, and First Camp had a great year despite being considerably larger and more encumbered, but it challenged my composure more than a few times.  I've redefined some boundaries and finished articulating the changes I think need to occur, but there's still a lot up in the air. Regardless, I know I'll have a place to keep contributing to and working at the event in a significant way, however I find myself doing it.
Ree and I were Space Cops this year. The gate contraption I spent so many hours on pre-event to wrangle participants  didn't quite work out. It kept tipping over and probably would've killed someone, but I was surprised how little it bothered me when we put it down and just approached people. Imposing on them was much easier without it, there wasn't some central fixture to run away from.
People were so intrigued and unexpecting. Having the ability to actually interrogate and communicate with them through our microphones made all the difference this year. We couldn't project through the helmets last time and ended up more like alien mimes. There's something deeply satisfying about posing as an intergalactic authority and inflicting order on people in a place so resistant to it, all while holding a laser and in booty shorts.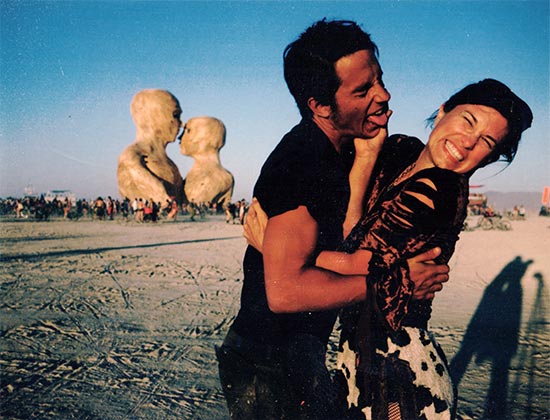 Christina stayed for post and got her first solid dose of DPW. When things wound down afterwards it started to feel like the Wild Wild West again. The Last Supper was definitely the highlight. I hadn't been objectified like that all year and I'm certain the images of me in a dress, attacking a three-story fire amidst a line of other screaming drunk people will be eternally seared into our brains forever.
The trip home was unexpectedly dense. We traveled much further than we anticipated, but only after hitting the dullness of Texas suburbia and rebuilding our craving for more adventure. It was so wonderful to see where some of our friends and family actually call home and get glimpses of their daily lives. We surprised Ree in Valdosta, saw my sister in Austin, and Chip in Tennessee.
We saw aliens in Roswell, wizards at Harry Potter World, and ate soul food in New Orleans. I finally made it to the City Museum in St. Louis, MO, somewhere I've always wanted to go. It was above and beyond the most incredible children's museum I've ever even heard of. It was so interactive and engaging, I resisted the urge to ditch Christina and run through every turn and tunnel until I got lost somewhere, surrounded by strangers. Words and pictures fail widely here, it's remarkably non-linear, a sort of sculpted gymnasium fabricated from recycled steel, cement and assorted industrial reclamations. We even met a burner from Chicago while standing in line for the ten-story slide.  I'd highly recommend it to anyone with kids or two nimble legs if you're ever near the area.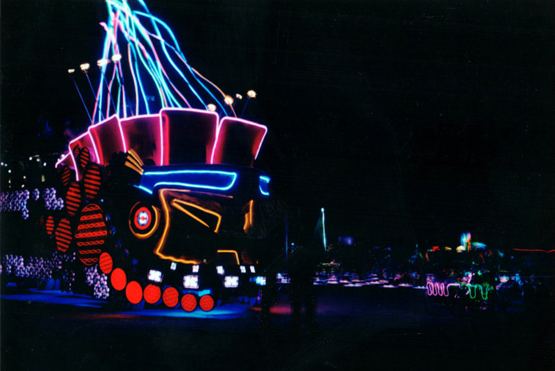 Alas, I've been home for a few months, decompressing. Things become blurrier within the bounds of Fargo and the onslaught of default world. It's taken me awhile to write this and feel like I could get out from underneath the weight of my work at the event and heavier parts of the experience.
I was invited to San Francisco last week for the annual First Camp debrief. It was amazing and awesome to be with everyone outside of the distractions of the event. I can tell my role is still evolving and next year will be very different, but I saw how deeply aware and committed all those people are and feel great good looking back on it.
It's time to channel those feelings into all the other aspects of my life again and keep making and expressing things as courageously and wildly as anyone will allow. And it's time to look forward to whatever crazy and alien ideas we can conjure for the Carnival of Mirrors.  Who knows what we'll find there.