I finally got the time off I needed to make a real trip to Japan this year. I've wanted to go for as long as I can remember and always been profoundly interested in the country and culture. Here's everything I managed to fit into twenty-three days.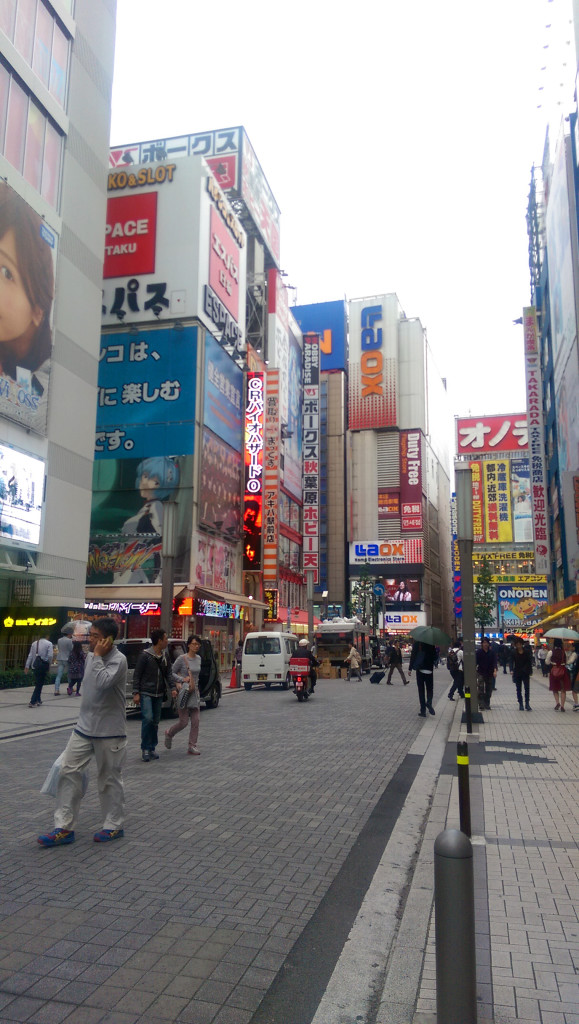 It was an incredibly novel experience to have grown up appreciating a culture primarily through it's animation and video games only to see it much later in reality. It took a couple weeks for me to stop feeling like an autistic school girl every time I saw anything wrapped that reminded me I was actually in Japan.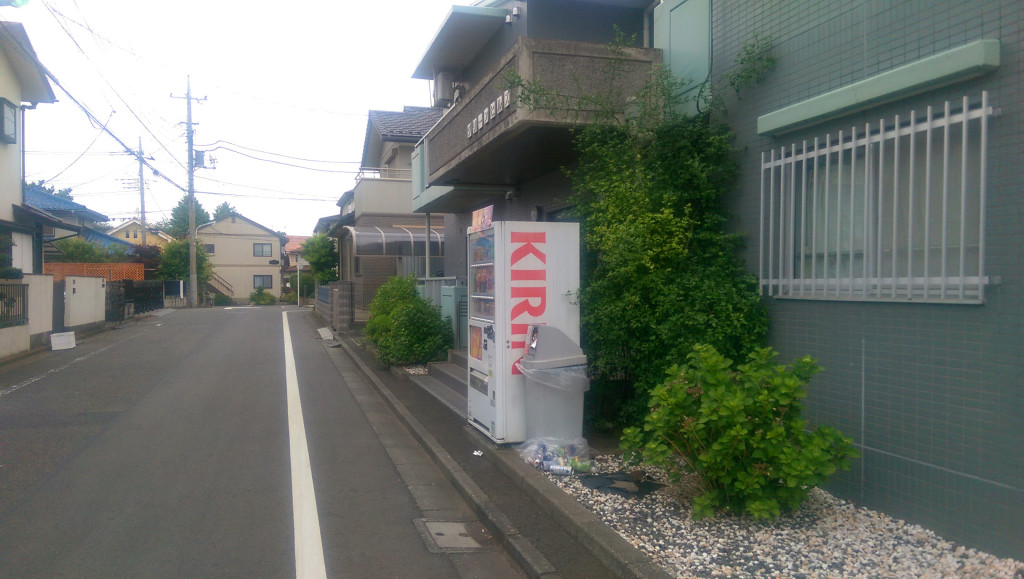 For example, this photo from the first day I arrived. Just a simple looking street, right?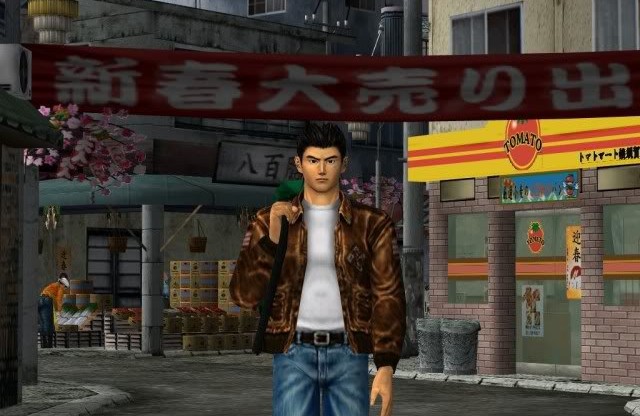 WRONG. That's straight from Shenume for Sega Dreamcast. Multiply that experience for every side-street, clerk in a convenience store, or subway ride and you're in my brain.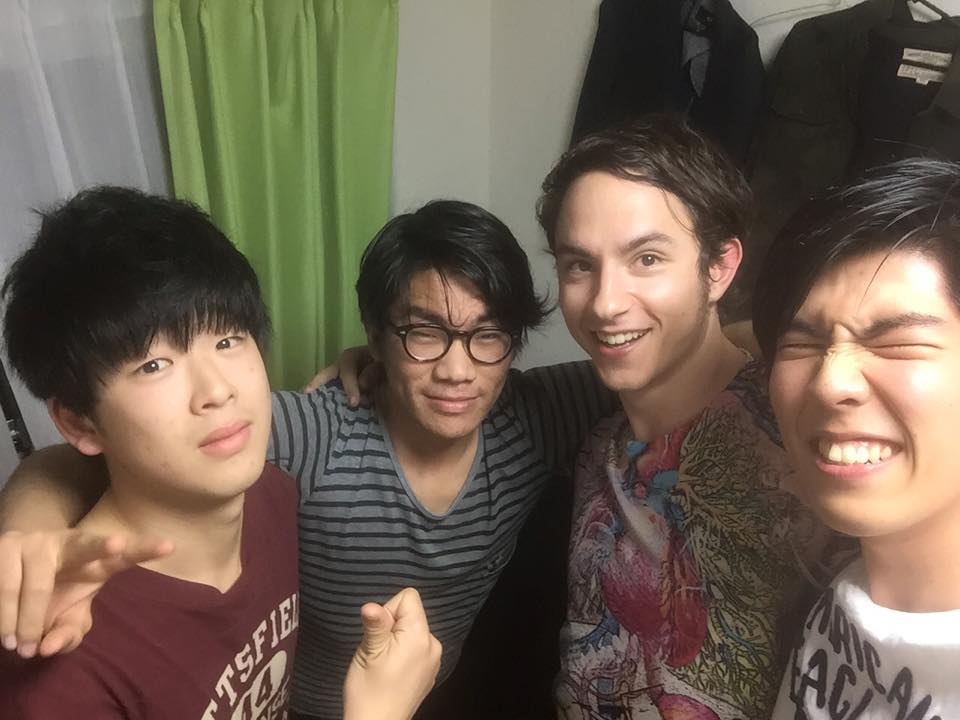 I spent the first two days in Tokyo. I stayed with Kyoichi, who was studying Russian at Tokyo University. I am eternally humbled by someone so willing to share such a small space with a complete stranger and then some.
On the third day I headed for a farm in the Tochigi wilderness, just a few hours away, where I planned to WOOF for a couple weeks. WOOFing is an international network for connecting people with organic farms and doing work exchanges. Typically, you work six hours a day in exchange room and board.
I applied to over sixty farms, but was extremely fortunate to find such a generous couple, Sirobey and Pia, who were so well spoken for. They'd hosted many WOOFers and were fantastic to me. They had a giant book with everyone that had visited and their experiences.
Sirobey was a prolific potter and did a couple exhibitions of his work each year in Mashiko, a nearby town known for pottery. He also built all three houses on the property. The guy was amazing with his hands.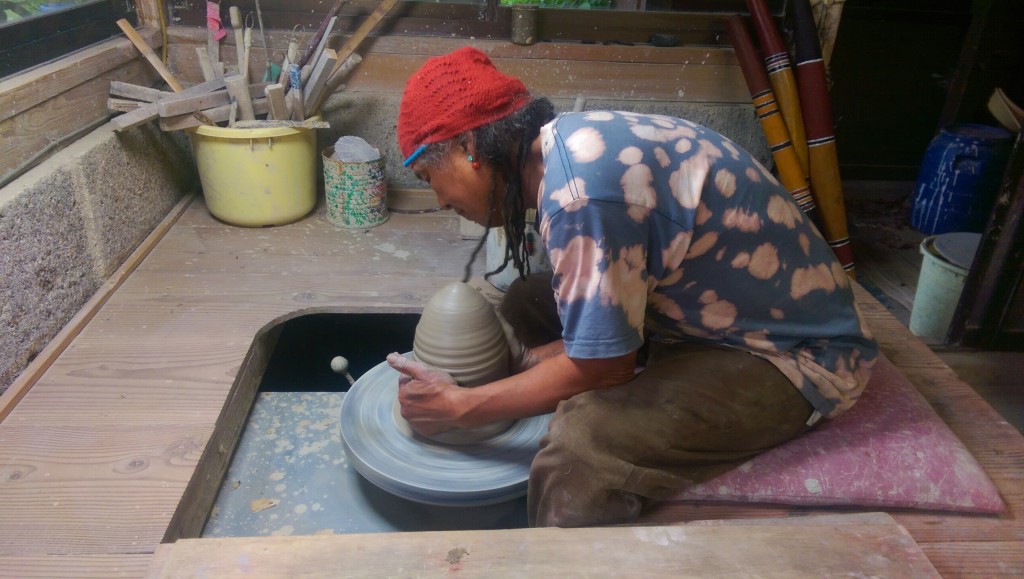 He set up the wheel and I was welcome to spin whenever I wanted. He made it look so easy.
For some reason this old photo of him reminded me of Predator. Not sure why.
They grew at least thirty different types of plants. Wheats, fruits, vegetables, and many more I hadn't heard of or they only knew the Japanese name for. Pia said they grew about 70% of the food they ate, but could easily do 100% if necessary.
Their dog, Hime, was adorable and independent.
Other than Hime and their chickens, they didn't keep any animals. There were still plenty of frogs and giants bugs around though.
No day's work was the same. I spent a fair amount of time in the forest harvesting bamboo to make various plant supports. These will host various vines for some type of vegetable.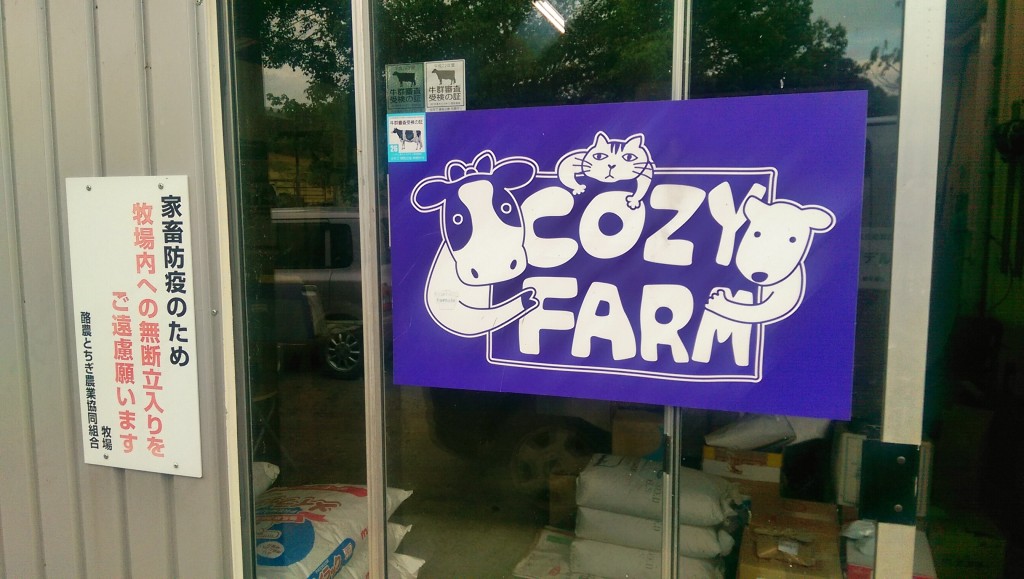 They had a dinner party the first night I stayed there. I met a dairy farmer, but he didn't speak much English. I later told my hosts about my dream of milking a cow, which they wonderfully orchestrated though a friendly visit to his farm that week.
I don't remember if I was bowing or just trying to put the gloves on. There were three young Japanese girls working the pumps. Sirobey translated for me. They were happily amused.
I milked a cow! I didn't do it long, since it was just falling on the floor, but I still fully intend to find a non-commercial farm with buckets at some point.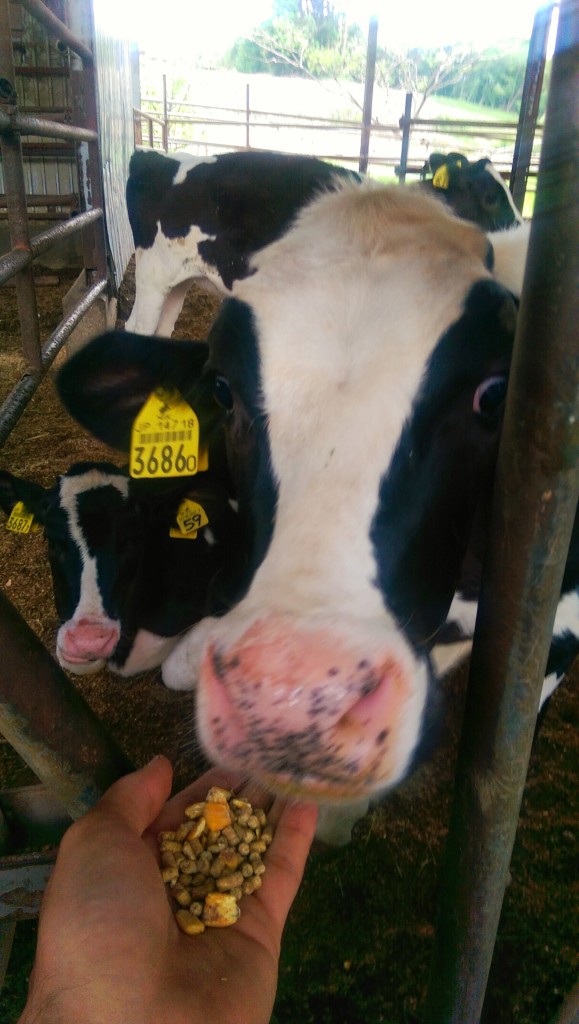 We fed the younger cows outside afterwards. Cow tongues are crazy.
faf
I finally got farm fever and realized there was so much more of Japan I still wanted to see. I started planning where else to go  and left the farm a few days early for Tokyo.
I stopped in Odaiba, a small, artificial island just outside Tokyo. It was very mordern and had lots of robots.
I visited the Emerging Science and Technology Center on the island. They had a fair amount of science exhibits and expos with the latest tech.
Some of the robots were still quite old or impractical, like this one. I don't think we need an animatronic news-reporter.
I didn't stay in Tokyo long and caught a night bus for Hiroshima. They were just barely comfortable enough for sleeping, and meant I could wake up in a different city and start running around right away again.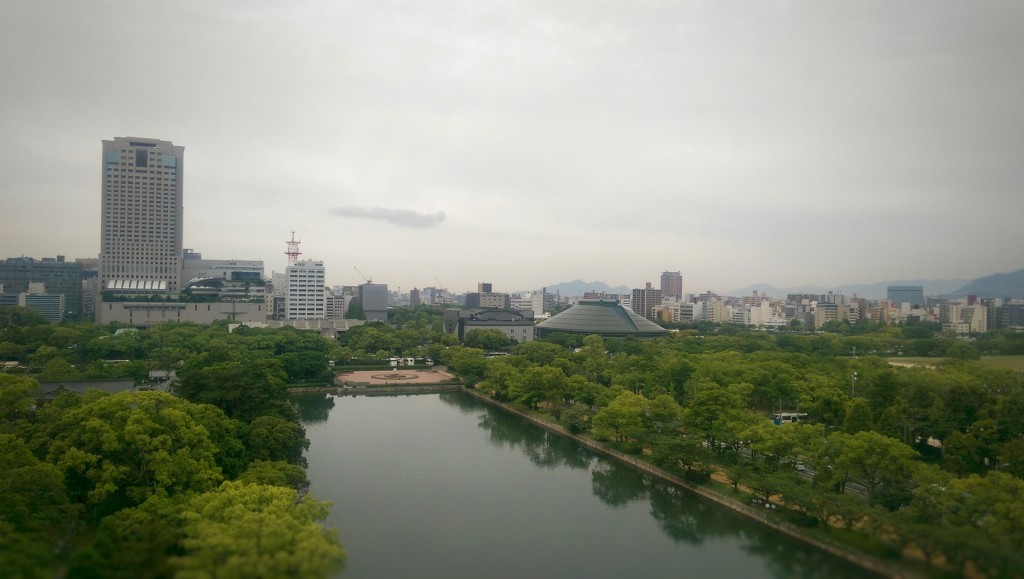 Hiroshima was fantastic. It was really fascinating to think their entire infrastructure is only 70 years old.
Everything still seemed a bit grey and industrial compared to the other cities I visited.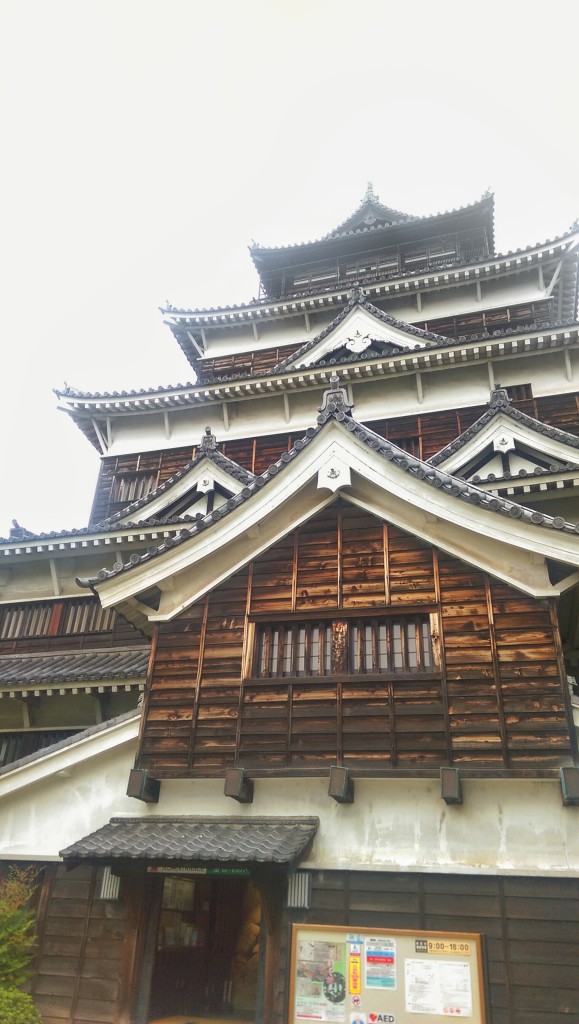 They'd already rebuilt Hiroshima  castle a few times. This one had an awesome museum inside for how small it was.
I was on my way to the Peace Museum, outside the Atomic Bomb Dome, and I saw this strange display of books. There was another table with Japanese versions right next to it. I read the entire book. It was a history and collection of observations from a man who's mother survived the bombing while he was still in the womb. It had some excellent information and opinions that weren't in the Peace Museum.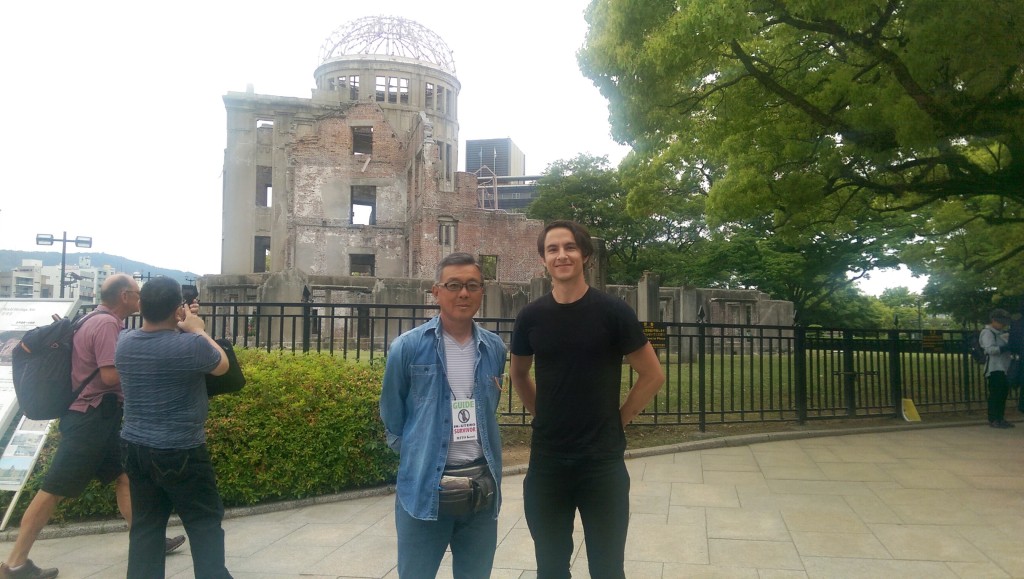 "That's my mother." Kasei said as I finished the book, pointing at a picture of her. He'd waited to introduce himself until I'd read most of it. I didn't expect the author to be around for some reason, and it was great asking him lots of questions afterwards. He knew everything about the history of the bomb and its aftermath. I ended up enjoying talking to him more than the actual museum.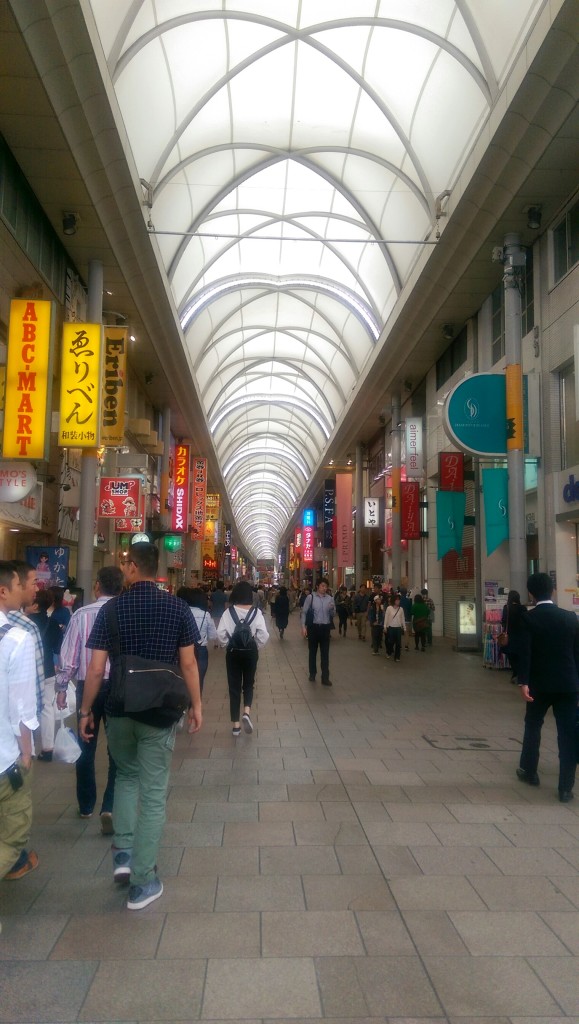 Hondori Street was the incredibly long, canopied shopping district in Hiroshima.
I stopped in a store and found a UFO-catcher with panties inside. UFO-catchers are basically crane games, but I think they call them that because it's a miracle if you actually catch something. There were huge arcades just for them though in every city. And no, I did not procure any panties during my trip, since you've all been asking.
I met up with Joey, my couch surfing host, and convinced him to go out that night. We went to a private party with a large group of his friends and other people. Lots of eating, drinking, and stumbling around afterwards. Fucking awesome time.
I stopped at Miya Jima the following day, a small island just near the city. It was famous for its photogenic, giant torii. I didn't venture too far into the island, but it had some great temples and shops.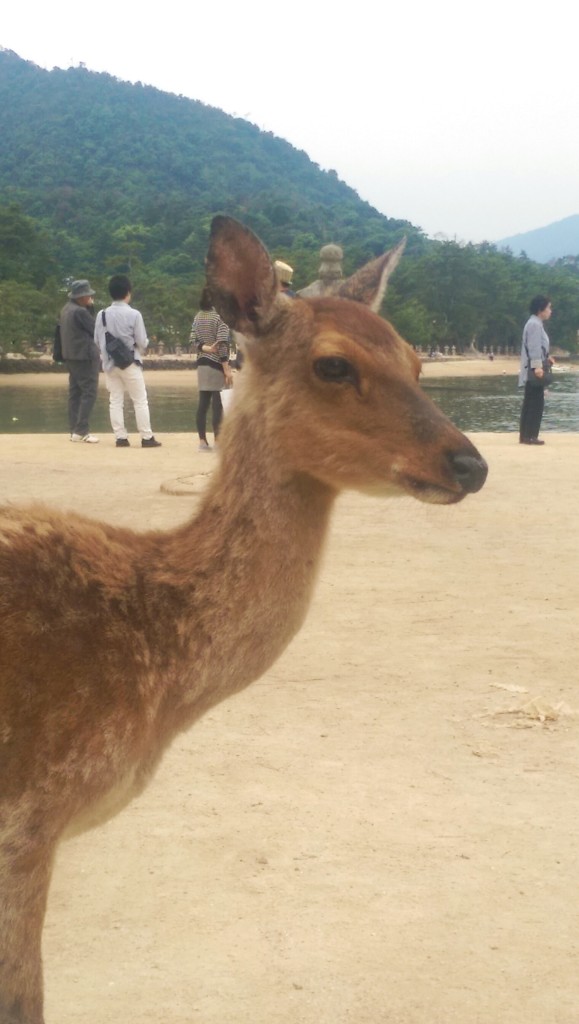 They also had wild deer roaming the island, mostly looking for food and to violate your personal boundaries. It was awesome being so close to them. These guys were NOT shy. Any loose articles were game, including papers and maps. Ask me to do my Miya Jima deer impression sometime.
I headed to Kyoto next, the old capital of Japan. I stayed at this incredible hostel, which was designed remarkably well. I met a pair of British lads, Andrew and Fabio, who were also touring Japan. We teamed up for a day of sight-seeing the following morning.
We visited the Fushimi Inari Shire, famous for it's thousands of torii gates. It was a decent hike up the mountain. A random group of Chinese school-kids insisted we camo in their group photo.
I insisted we visit Arashiyama Monkey Park, because monkeys. It was inhabited by about 170 Japanese macaque monkeys, all happy to be fed.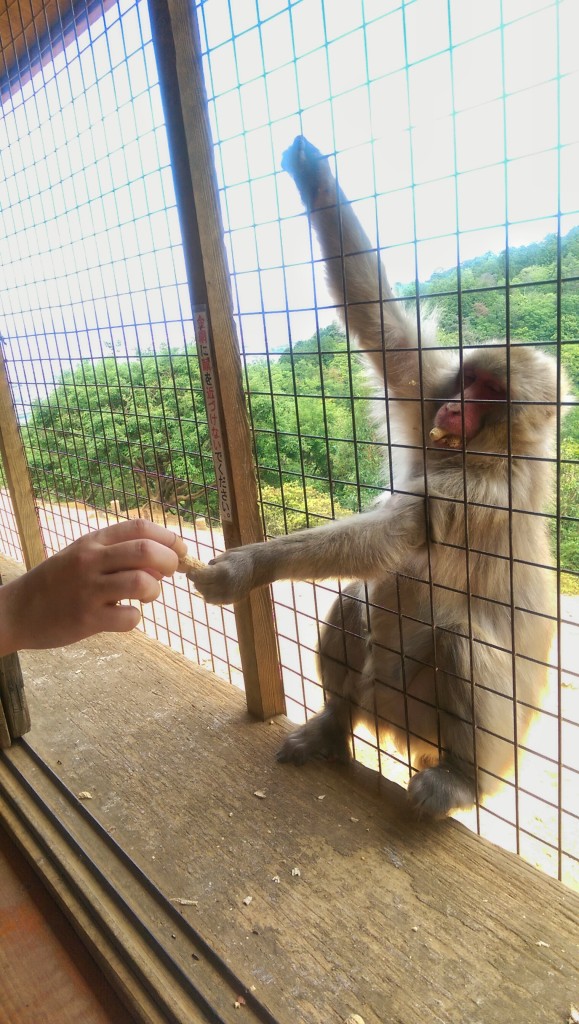 By happy I meant completely unimpressed and ambivalent towards anything but apples and peanuts. Their hands were like tiny people hands. True joy.
If you left the cage area they were still roaming freely around and you could approach them. I wouldn't get too close though, they were screaming and chasing each other most of the time. Also, the signs warned you not to look at them directly in the eyes, as it was considered an aggressive gesture. It didn't seem to stop anyone though. This one posed for a photo, or to illustrate the stark contrast between pre-human and post-modern mentalities. I'm not sure.
I visited the Golden Pavilion temple by myself the following day. What you can't see in this picturesque photo are the THOUSANDS of other tourists surrounding me all vying for the same shot. This was around where my temple-burn-out set in and I stopped visiting landmarks.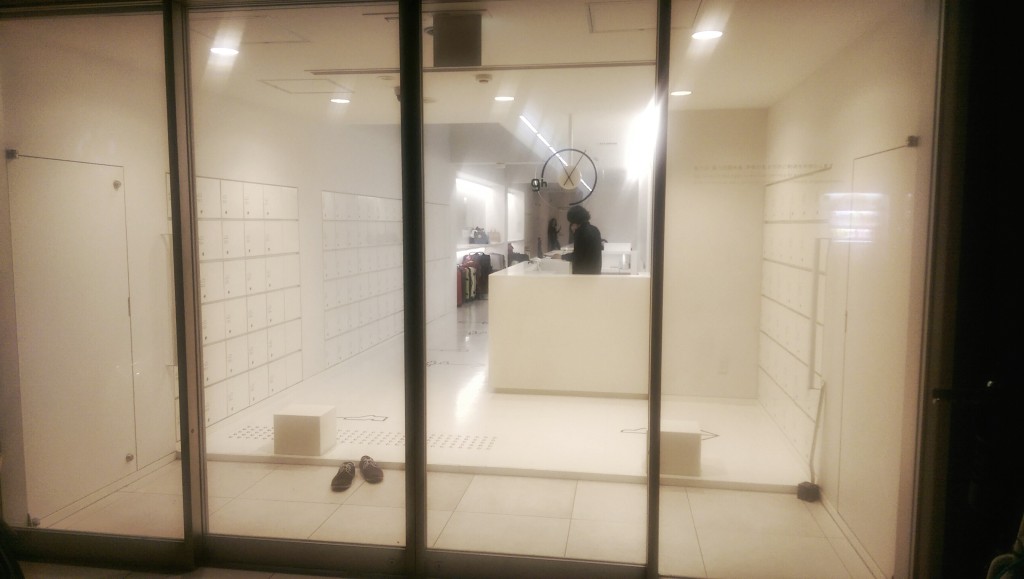 I spent a night at a capsule hotel. You can only stay one night at a time, but they're very efficient. They were originally meant for Japanese salary men who missed the last train and needed somewhere to sleep and shower for a night.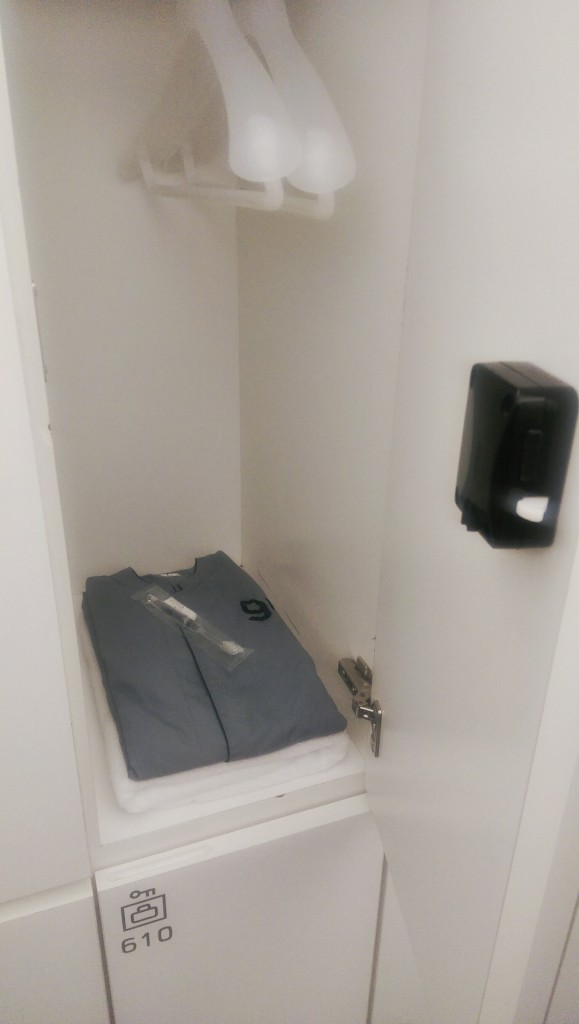 Everything was impeccably designed. Everyone walked around in these grey robes.
It felt like staying at a space station.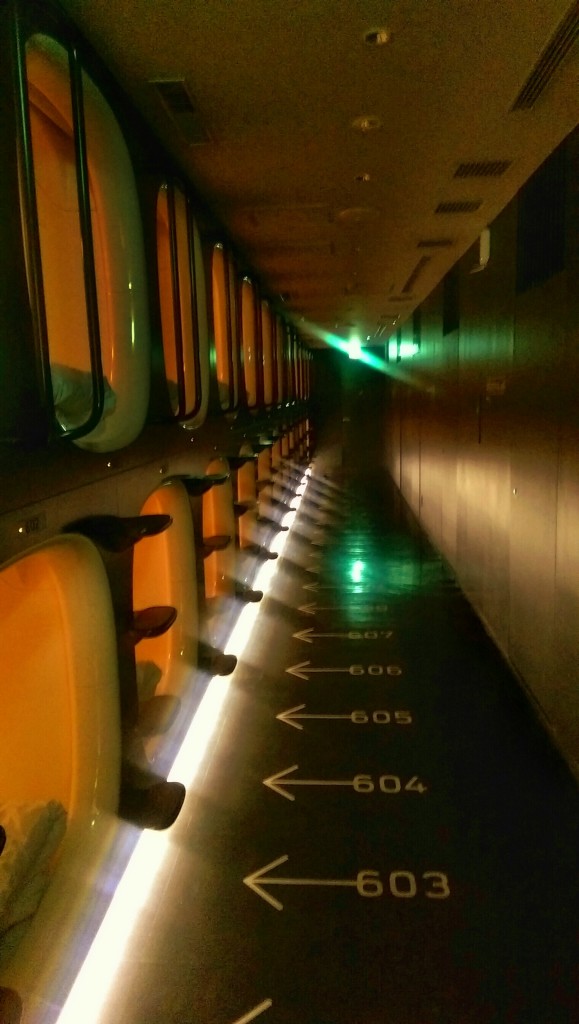 The capsules were segregated by floors and gender. It was quiet and relaxing.
DID I MENTION IT WAS LIKE A SPACE STATION.
After Kyoto, I headed to Osaka, an hour south and about the same size. It was more modern and known for its food. Hence, the Ramen Museum.
I stayed with Akira, an engineer and salary man. He hosted surfers to practice his English. He was way too polite and cooked me dinner. He played guitar and loved music. There were stacks of CDs everywhere.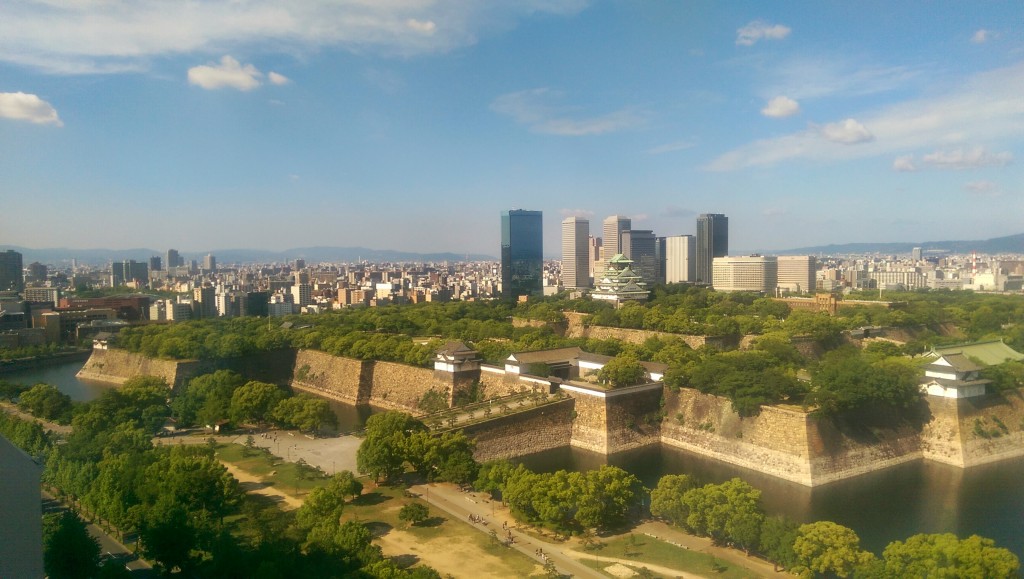 Osaka had the best 'giant castle in the middle of a Metropolis' going on. I didn't bother going in this one, but I did visit the history museum across the street.
This trip needed more theme parks. Universal Studios Japan!
I actually went to Universal Studios Orlando last year with Ree and Christina, but everything still felt very different. Fake snow always seems ironically insulting in 90 degree weather. Mmmmmmm, butterbeer.
It was oddly unsettling hearing Dumbledore talk in Japanese. Hermione sounded like an old woman.
The park had four attractions which were all anime-focused. Apparently, Attack on Titan warranted one. I'm still not sure why. Sadly, the Resident Evil one was closed.
Eva was largely responsible for my initial infatuation with Japan. It's no surprise it's still popular twenty years later. This ride was absolutely awesome. Blood everywhere.
I headed back to Tokyo for the last four days of my trip. I met up with Kyoichi again and we went clubbing one night in Shibuya. He was already hosting another pair of other surfers from America as well. I was already set up with an AirBnB so I could pretend I lived in the city for a few days.
I tried finding a Bitcoin ATM to get some more cash at one point. Unfortunately, none of them were either working or where they claimed they were. It was a sad day for crypto. This one is lagging out while looking for the exchange rate. Also, the Japanese address system is practically impossible for finding things, but makes for good adventures.
I met up with Maki, the Japanese regional contact for Burning Man. She invited Morgan, a professor from Virginia and we all had dinner one evening. He was a burner as well and was teaching English to exchange students visiting Japan. Obviously, he spoke excellent Japanese, and had no trouble striking up conversations with this group of kids. We had a blast and I spent some time in his classroom the following day.
I visited the Tsukiji fish Market, the biggest wholesale fish and seafood market in the world and also one of the largest wholesale food markets of any kind. This was actually very difficult to photograph and largely a spectacle of scale. It felt like something out of Blade Runner.
Genki Sushi was an awesome, conveyor-belt sushi restaurant in Shibuya. It felt extremely satisfying to order from a touch screen and watch it drive out on a tray five minutes later.
I almost played Pachinko (the Japanese version of slot-machines), but it seemed more ridiculous the longer I studied it. There were so many strange things about these places and they were everywhere. The huge trays of metal balls, insane lighting, and overwhelming noise were just a few.
I met Stephan at Robot Show on my last night in Tokyo. The show was amazing, but Stephan even more so. We were both of similar age, profession, and visiting Japan for the first time with similar intentions. Quite synchronous. He also ordered biggest piece of naan I've ever seen.
We ended up hitting a string of strange bars with some people he knew. I got an affectionate lick on the nose from a drunk woman. It was a fantastic send off.
I'd taken two semesters worth of Japanese in college, but it had still been five years since I'd studied any of the language. I only knew a few hundred words and some basic culture and customs. I couldn't see myself venturing back without knowing more and being able to interact with people on a deeper level. I felt isolated or cut off many times as a result.
Regardless of not knowing much of the language, I had a wonderful time. Tokyo was easily the cleanest and largest city I've ever seen, and the entire country was beautiful and fascinating. There's was so much more I can't fit here.
Also, learning about WOOFing and its sister sites (Workaway &  HelpX) made me realize just how easy it is to find projects, jobs, or communities you can actively engage in abroad while eliminating costs and creating relationships with real people.