I watch in anticipation as my platonic life-mate puts his helmet on. He gives a nod and we raise our hands, sprinting towards the fire. The crowd has their backs turned and most of them don't even see us coming. We scream in mock terror, but the sound barely escapes our headgear. When we reach the perimeter of the flaming ship, we fall to our knees and begin crying in hopeless defeat. I start to hear people laughing nearby. After accepting our fate we begin walking back to the over-sized cat palace.
"Dude, that was awesome!." cheers a group as we pass them. We scan each individual carefully with our tricorders as they admire our space suits. They ask for photos and we strike a pose. Their fascination continues, and I eventually decide to cool off by removing my helmet.
"Cougar Bait!?" a man screams. I vaguely recognize him. It's only Thursday, but it's been a full week, filled with faces.
"That's the guy who fixed our trailer today!" he says eagerly to his friends. I recall them now, and the hour I spent earlier that day addressing their dire lack of power. I hung around after I plugged them in to make sure it was working, but I was busy and didn't loiter.
I bow in appreciation, but we usher on to our friends at the nearby cat palace. And so the night continued…
My trip this year was exceptional. I will offer another scattered synopsis, lest I repeat myself or simply leave you wondering again what the hell really happens out there some years. Many things were similar this time around, especially my work and the build up, but the art and art we brought were wonderful and different, among other things.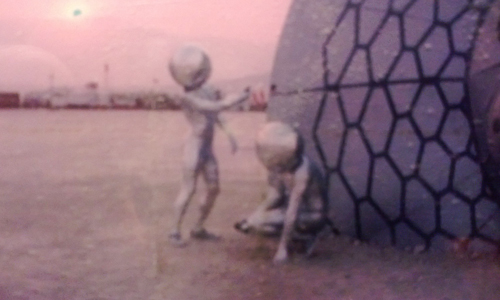 Ree and I gave our best attempt at space men costumes. These were composed of plain, silver suits, large reflective helmets, and tricorder devices for scanning people or objects and making noises. We actually keep them a secret until we were able to "wander" into our family camp and impose our anonymous act upon them. They enjoyed it, as did others, and I evolved to draw a strange enjoyment from the odd looks and excited reactions of most people.
We made an obligatory appearance at the large, downed, UFO sculpture in open playa, as it suited us quite well. We also visited it on the evening it burned, in which the previous skit formed as a result.
We brought other costumes for a more ambitious adventure. Chris, Christina, Ree, and I each dressed as characters from the Wizard of Oz. Our goal was to recruit participants to help us find the wizard. Our friendly 'wizard' then gave us each a prearranged gift, and asked our guests what they wished for. He would then select something from a large, hidden box of strange and ridiculous items we gathered earlier in an attempt to match their desires.
Our companions were enthralled, but only a few were gathered and gifts were given. Needless to say, we have plenty for next year and are certain we'll go at it again. It was too fun and easy pretending I lacked the brain to really understand anything. Go figure.
When we weren't wandering in costumes or dilating our pupils, we enjoyed the myriad of art and performances. My favorite piece this year was Truth is Beauty by Marco Cochrane, the second in a three part series of large, steel sculptures focused on the feminine form and asking questions on how to create a safer world for women.  His pieces continue to inspire and astound, and this was something I regularly returned to and truly admired.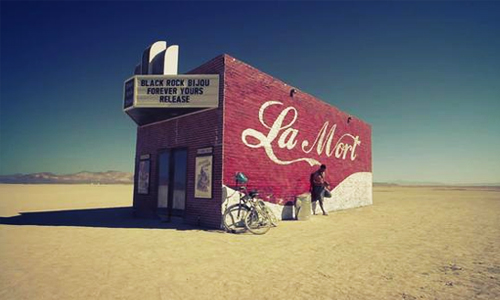 We also visited a variety of camps and art as they were being built, one of the benefits of being on site so early. The Black Rock Bijou was a repeated stop, and became an incredible venue and fully functioning movie theater once it was setup. It has typically been located in the most remote area of the event, in deep playa near the edge of the city, and returned for it's fourth year. It was magical venturing towards it, being gifted a choice of candy or popcorn, and then shuffled inside a packed theater for a brief viewing of Forbidden Planet.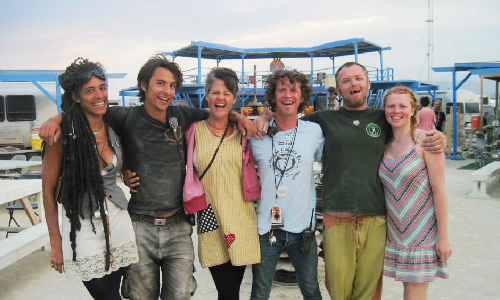 These are small stones from a massive pond. Burning Man is a city, and I am constantly reminded and astounded by the myriad of experiences and entirely unique and irreducible moments it can create for each individual. That in mind, I still spent a majority of my time working in First Camp and investing directly in the functions of the organization and individuals who inhabit it.
I didn't over-invest in my job quite as much as I did last year, but I still felt the stress and toll of supporting a large camp. I was fortunate enough to have two extra people below me to even our load, even a few full days off, but it was a challenge balancing my mood and energy amidst the elements and event.
Of course, I'll be back at it each year. Where else can I get breakfast with Sergey Brin and watch people wait on Larrey Harvey's lunch? It's also the epicenter of operations and organizational exchange at Burngin Man, and if I ever have a greater opportunity to understand or impact the core of the event, this position is pretty damn close to it.
Fun and fire aside, I had a few stimulating experiences to and from the playa as well. On the way through California, Christina and I visited The Cat House on the Kings, the largest no-cage, no-kill, cat sanctuary in California. We toured their facility, home to over 1000 cats, while learning about its history and personalities of its residents. It was fantastic, and we incurred a roving band wherever we went. I pet so many cats!
I also stopped in Davis, California on my way to Nevada, and was given a private tour of the Schilling Robotics Facility by a generous employee. I was not allowed to take pictures, but their remarkable facility and the exposure to some truly world-class machinery was astounding. Giant robots with arms everywhere.
Alas, I have broken the sacred oath and shared another futile facet of my desert venture . In retrospect, I had an amazing, transformative time and hope you enjoyed a glimpse into my travels and the gist of the online-appropriate experiences I had throughout my trip. I'll be doing it all again, sometime around this time, next year. Until then, I'll be decompressing, grooming the potential new arrivals, and expecting the unexpected.