94 Days of Adventure
to Black Rock and Back
Our trip to the Black Rock Desert took three weeks. Ree, my heterosexual life-mate, joined Christina and I for the ride down, then flew out from San Francisco and back for the burn once we finished setup. It made the ride exponentially more fun and I enjoyed introducing him to our friends and family scattered along the way.
Ree ended up viewing the world through the lens of his phone most the trip. New girlfriend or something. I did my best to give him a hard time about it, but he didn't budge.
Christina got to turn the launch key and nuke the Soviets with the elderly tour guide. He said he picked her because she was the same age as the people who used to have her role (early 20s). She didn't correct him.
We stopped in Tombstone to see…cowboys? Christina loved her some Val Kilmer back in the day. It was somewhat lost on me, but fun watching the actors play out the fight at O.K. Corral together.
Christina and I prefer to sleep on the floor most places. It's better for my back and she doesn't mind. Ree had been waiting for a chance to push the hotel beds together to make a megabed at some point. His moment came, but we had to join him. The floor was terrifying.
We stopped at Sequoia National Park on our way through California. Hot damn those were windy roads. We stopped for the view while Ree taught the robots what was important.
Ree flew off and our world turned to dust for three weeks while we setup the city. One of the advantages of arriving early is you get to decorate your favorite camp's cargo container before they can stop you or open it. Thanks goes to my mom for sending the fancy banner.
You can't tell very well, but I'm covered in bites. We had four days of intense bug infestation pre-event. They didn't actually bite, but the best we could tell is they were attracted to moisture and probiscusing around. Made for a few restless nights, scratching and cursing.
Oh shit, it's Working Man. Burning Man has officially started. We were grabbing some tea and toasties during the Monday morning brownout while commentating on camp drama and radio chatter.
Tent sweet tent. Christina wrangled us some real shade this year over it, hence making it livable during the day. Being underneath the network operations towers also helps when you need your Reddit fix too.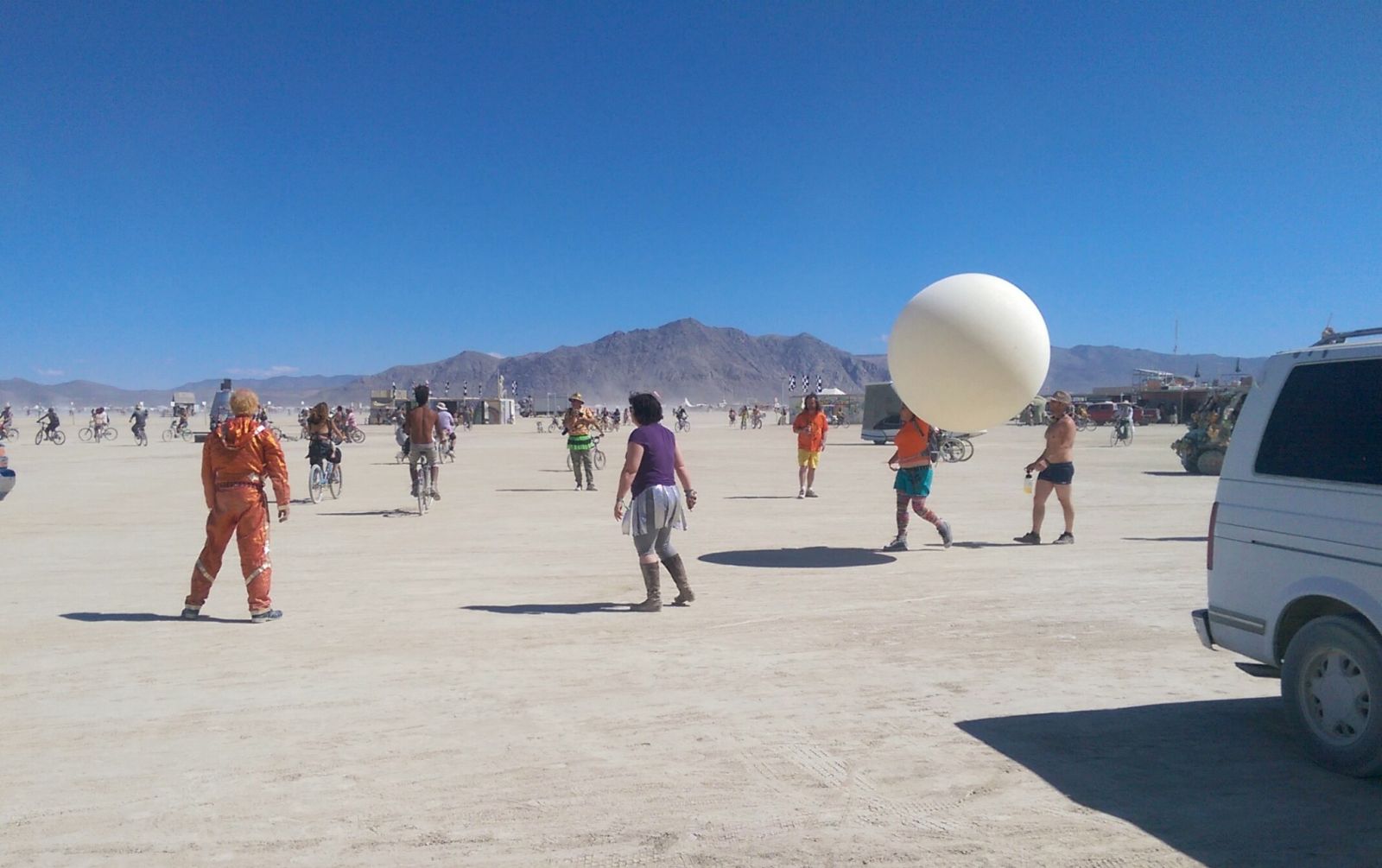 This giant white balloon came out of nowhere while I was doing some photo documentation of our camp structures. I'd been working all day and it was an abrupt and welcome reminder Burning Man was still happening at all times all around me.
Wouldn't miss the Daft Punk trash fence show to save my soul.
Zack, the First Camp pilot, was generous enough to offer us a ride one morning. Christina, Rachel, Randy, Zack, and I all piled into a tiny, 39-year-old Cessna and did three loops around the city.
AND I GOT TO FLY THE PLANE. Zack was a professional instructor, and I'd played enough flight sim I at least knew what the rudders were for.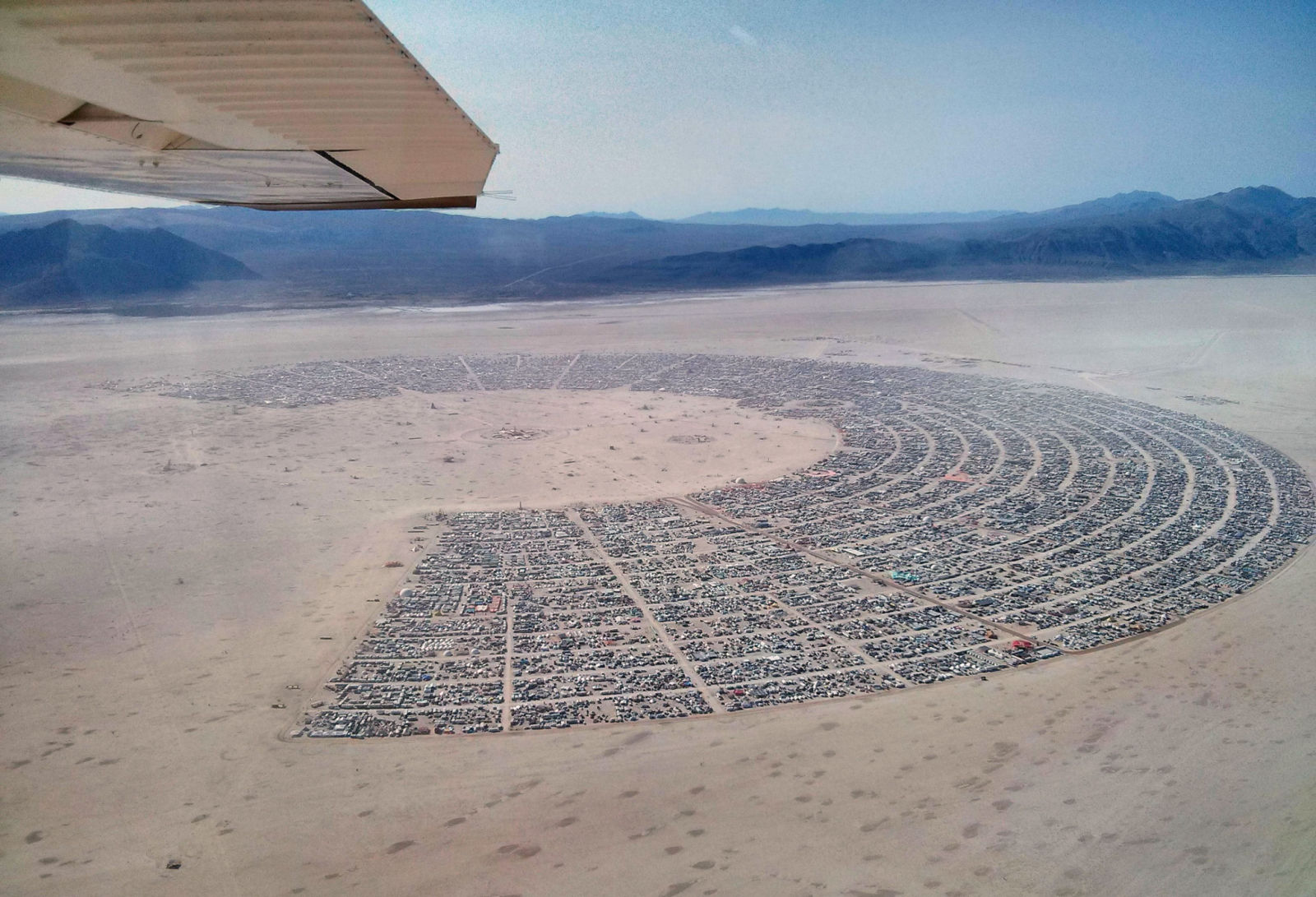 There was something majestic about finally seeing the city from above after helping building it for the past eight years. Everything seemed so connected…and manageable.
Christina and I had to setup for the Culture Collaborators party. I asked her to paint me something Fury Road, but didn't actually check afterwards. We looked like pirate superheroes.
The fun's over, time to shut it down. This is what cleanup sort of looks like. I started having flashbacks from my 20s, living with my three best friends, being the guy that cleaned up after all the parties. I'm still that guy, except now I'm getting paid for it.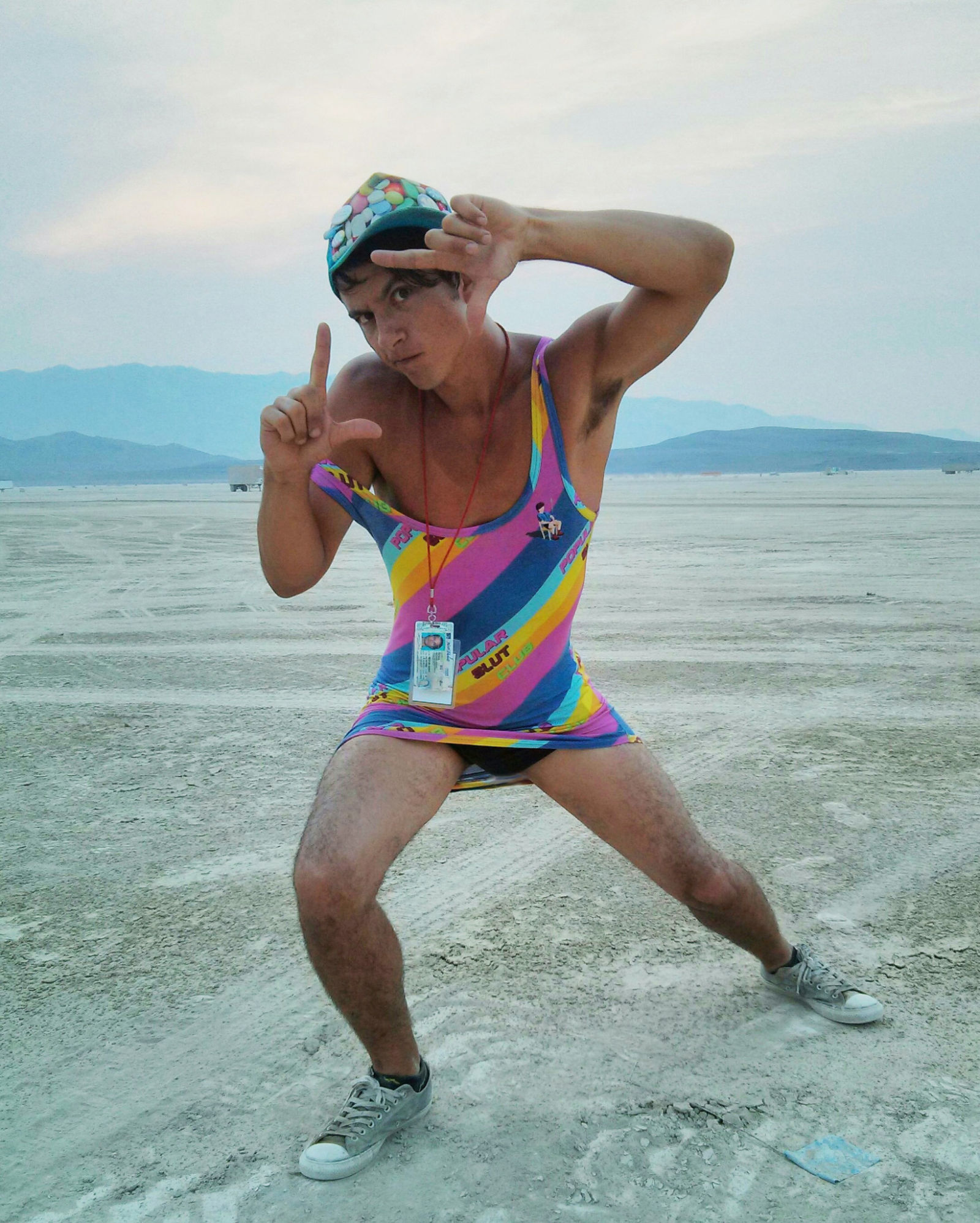 The DPW fun doesn't stop just because the city disappears. I saved my sluttiest suit for the Last Supper on playa.
Christina doesn't look excited, but don't let that fool you. She kicked Shade's ass this year.

It was my first year staying long enough to help de-fence. It becomes remarkably serene between the desert and arbitrary boundary of our playpen.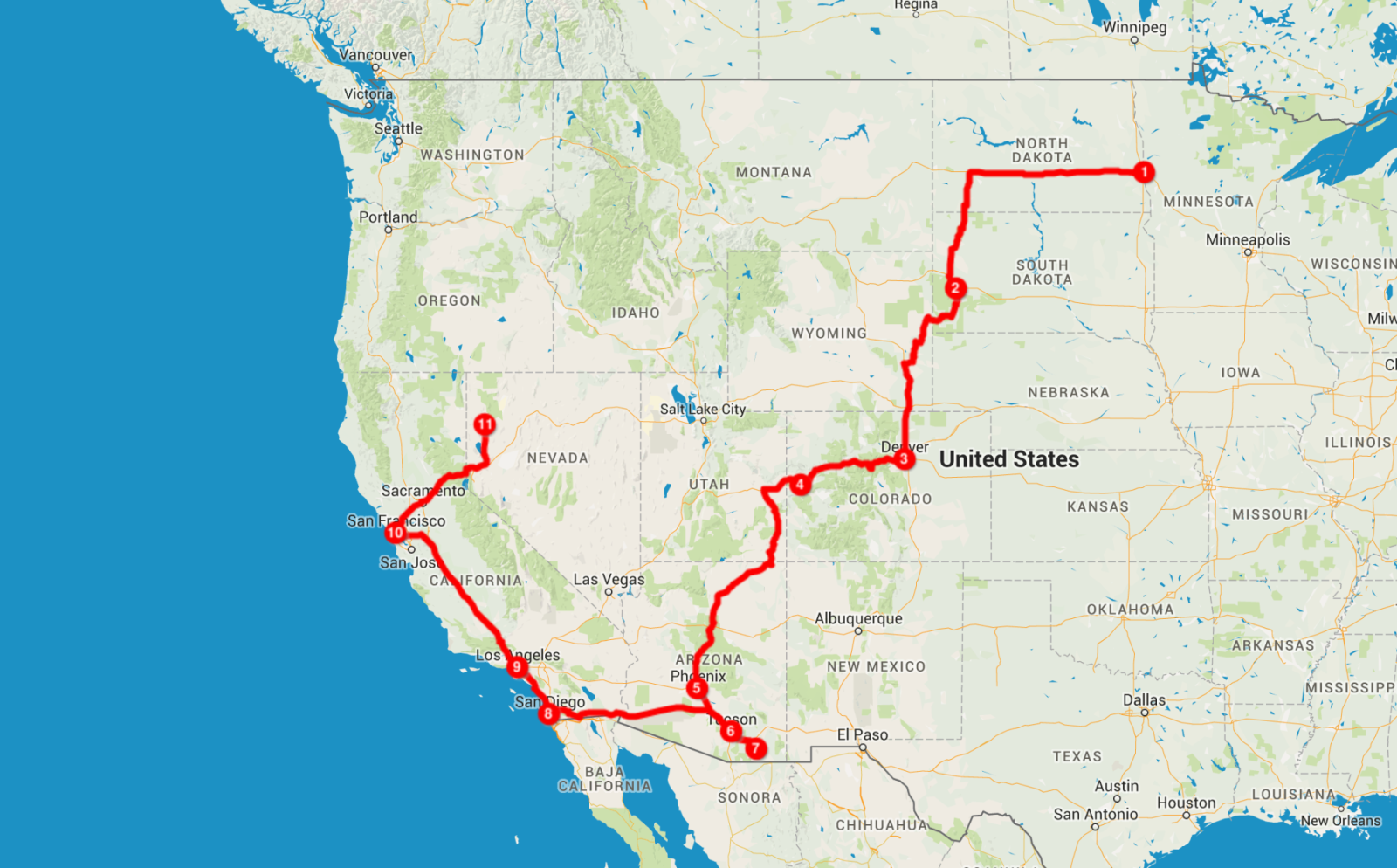 Christina and I charted a round-about way back. Black Rock didn't quite treat my thirst for novelty this year. I figured we'd go looking for some elsewhere.
Sadly, our first stop was a hospital. A dear friend found out they had life-threatening cancer shortly after the event. It was a solid reality check.
Next stop: San Francisco. Our friend Dara, a 3D printing superstar, was kind enough to tour us around some of the most advanced fabrication facilities in the country. Tech Shop is a world-class makerspace born out of the Bay and the first nationwide, public-access workshop. They're already expanding into other countries. The shop tour was bland, but the tools and robots were awesome.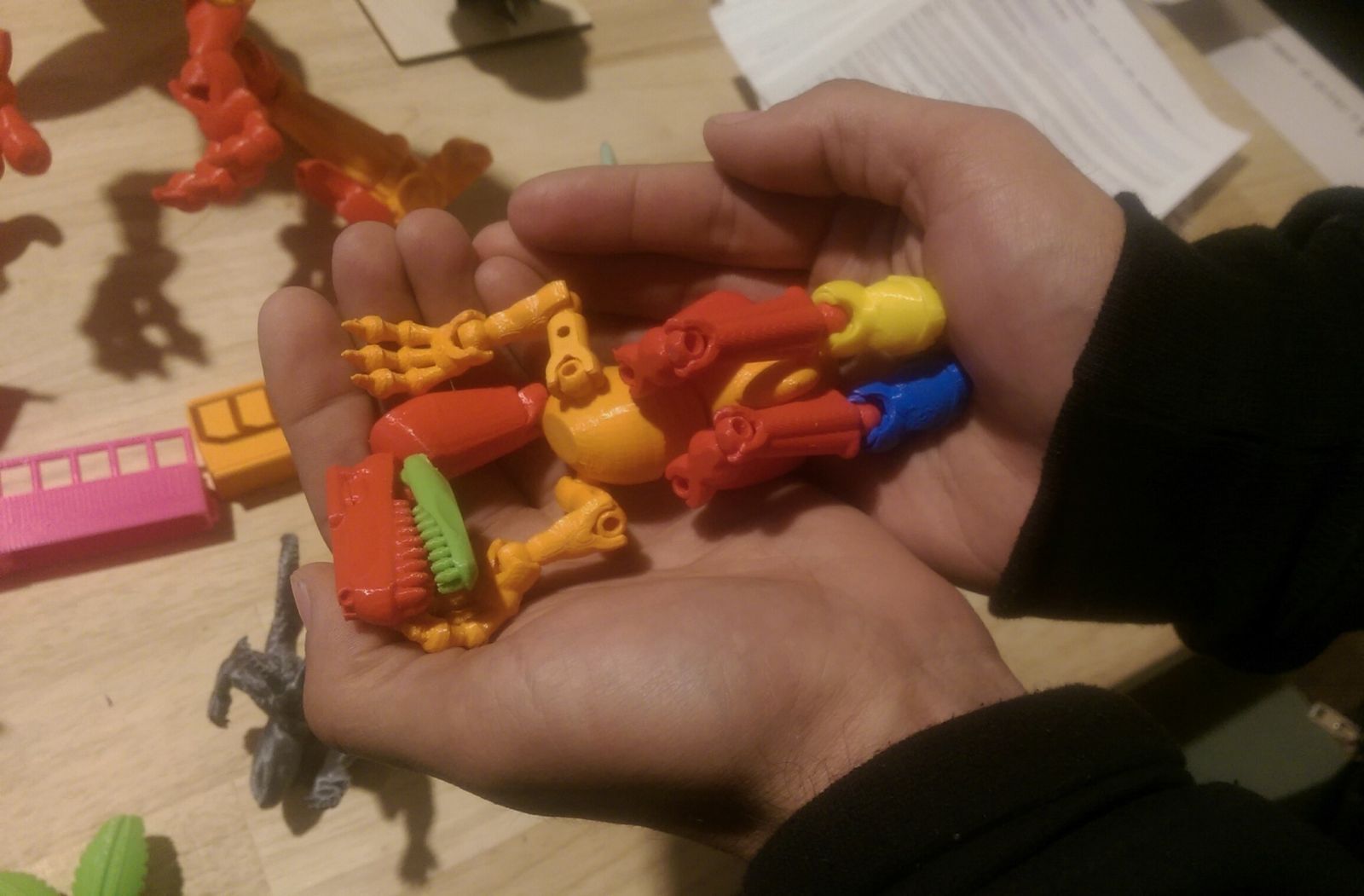 Dara sourced us another even more mind-blowing tour of Pier 9, Autodesk's design workshop and fabrication space, with resident pioneer Micky McManis. This place was incredible. I'm holding a raptor forged from Tinkerplay, a tool for creating customizable creatures and characters. One of the primary software designers was around and even gave us a demonstration and more information.
This tiny gorilla was made using a stereolithographic 3D printer, which creates objects by using a laser to harden liquid plastic.The ultraviolet light traces a cross-section of the desired design over a thin exposed layer of plastic resin, turning it solid, before the unused material is disposed of. This process is repeated layer-by-layer until the object is complete.
I watched
Going Clear
this year, an utterly fantastic HBO documentary by Alex Gibney on Scientology. I couldn't help but visit their first church and large recruiting center known as 'the complex' on Sunset Boulevard. I drug Christina and her brother along, who I thanked repeatedly for appeasing my cruel curiosity. I treated it like a covert amusement park while they tried to show us videos and then split us up to try and pitch Dianetics. It was fascinating, we spent about an hour there before I got tired of saying no to everything except the free DVDs. I'm certain I'll force us to visit the Hubbard museum next time too.