94 Days of Adventure
to Black Rock and Back
Christina got to turn the launch key and nuke 'the target' (launchers never knew their actual targets) with the veteran tour guide. He said he picked her because she was the same age as the people who used to have her role (20-24). We didn't correct him.
Christina and I prefer to sleep on the floor most places. It's better for my back and she doesn't mind. Ree had been waiting for a chance to push the hotel beds together to make himself a megabed at some point, but most of them don't move. His moment came, but we had to join him. The floor here was terrifying.
We stopped at Sequoia National Park on our way north through California. Hot damn those were windy roads. We stopped for the view while Ree taught the robots what was important.
Ree flew off and our world turned to dust for three weeks while we setup
the city
. One of the advantages of arriving early is you get to decorate your favorite camp's cargo container before they can stop you or open it. Thanks goes to my mom for the fancy banner.
You can't tell very well, but I'm covered in bites. We had four days of
intense bug infestation
 pre-event. They didn't actually 'bite', but the
best we could tell
is they were looking for moisture and probiscusing (poking) around. Made for a few restless nights, scratching and cursing.
Oh shit, it's Working Man. Burning Man has officially started. We were grabbing some tea and toasties during the Monday morning brownout while commentating on radio drama.
Tent sweet tent. Christina wrangled us some real shade this year over it, hence making it livable during the day. Being underneath the network operations towers also helps when you need your Reddit fix too.
Wouldn't miss the Daft Punk trash fence show to save my soul.
Zack, the First Camp pilot, was generous enough to offer us a ride one morning. Christina, Rachel, Randy, Zack, and I all piled into a tiny, 39-year-old Cessna and did three loops around the perimeter of the city. This is what the airport runway looked like that day.
HE LET ME FLY. Zack is a professional instructor and I'd played enough flight sims to at least know what the rudders were for.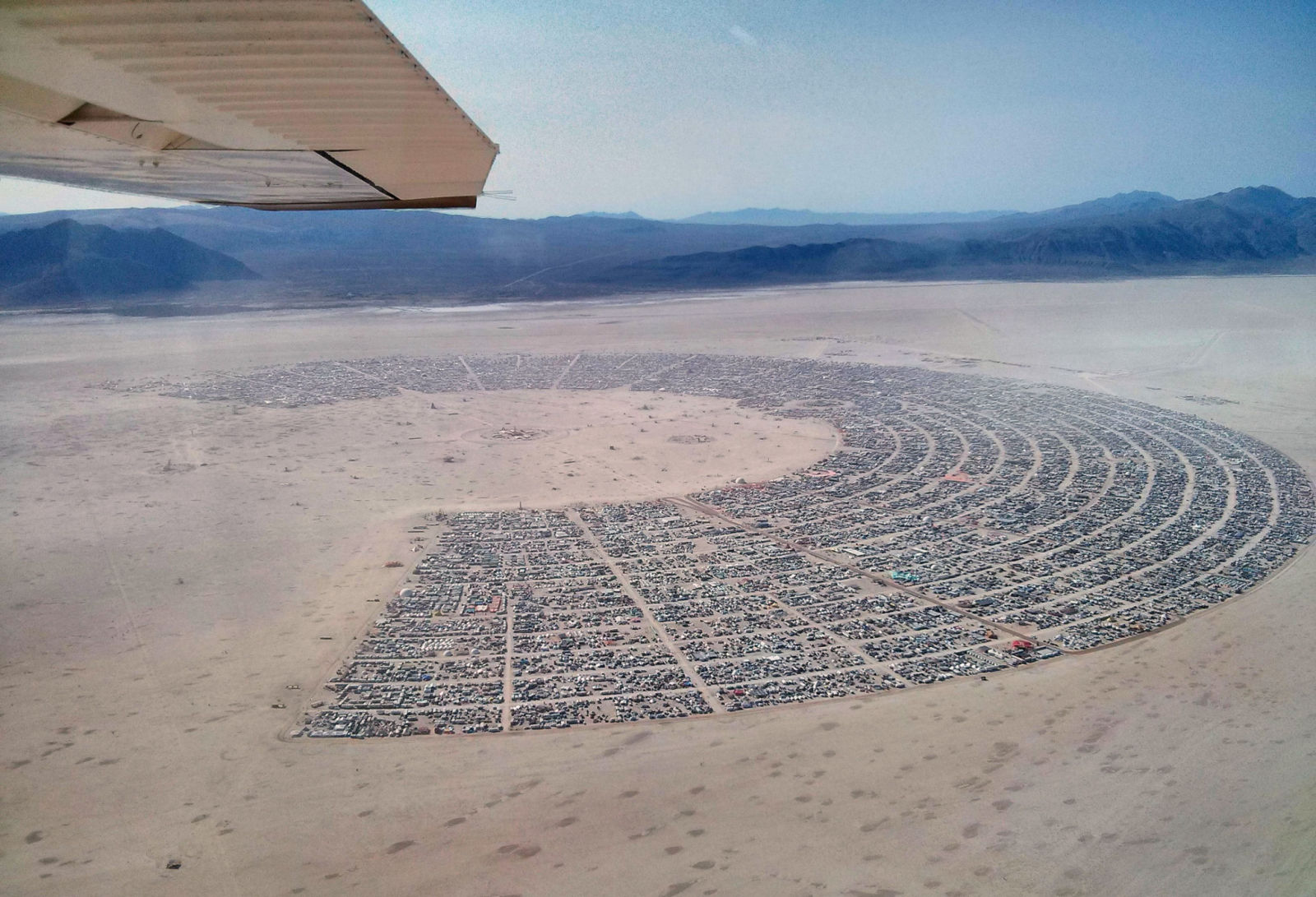 It was profoundly majestic to finally see the city from above after building it for the past eight years. Everything seemed so…small.
Christina and I were doing setup for the Culture Collaborators party so I asked her to paint something Fury Road on me. I didn't actually check afterwards. We looked like pirate superheroes.
Fun's over, time to shut it down. This is cleanup. I started having flashbacks from my 20s, living with my three best friends, being the guy that cleaned up after all the parties. I realized I'm still sort of that guy, except now I'm being paid for it.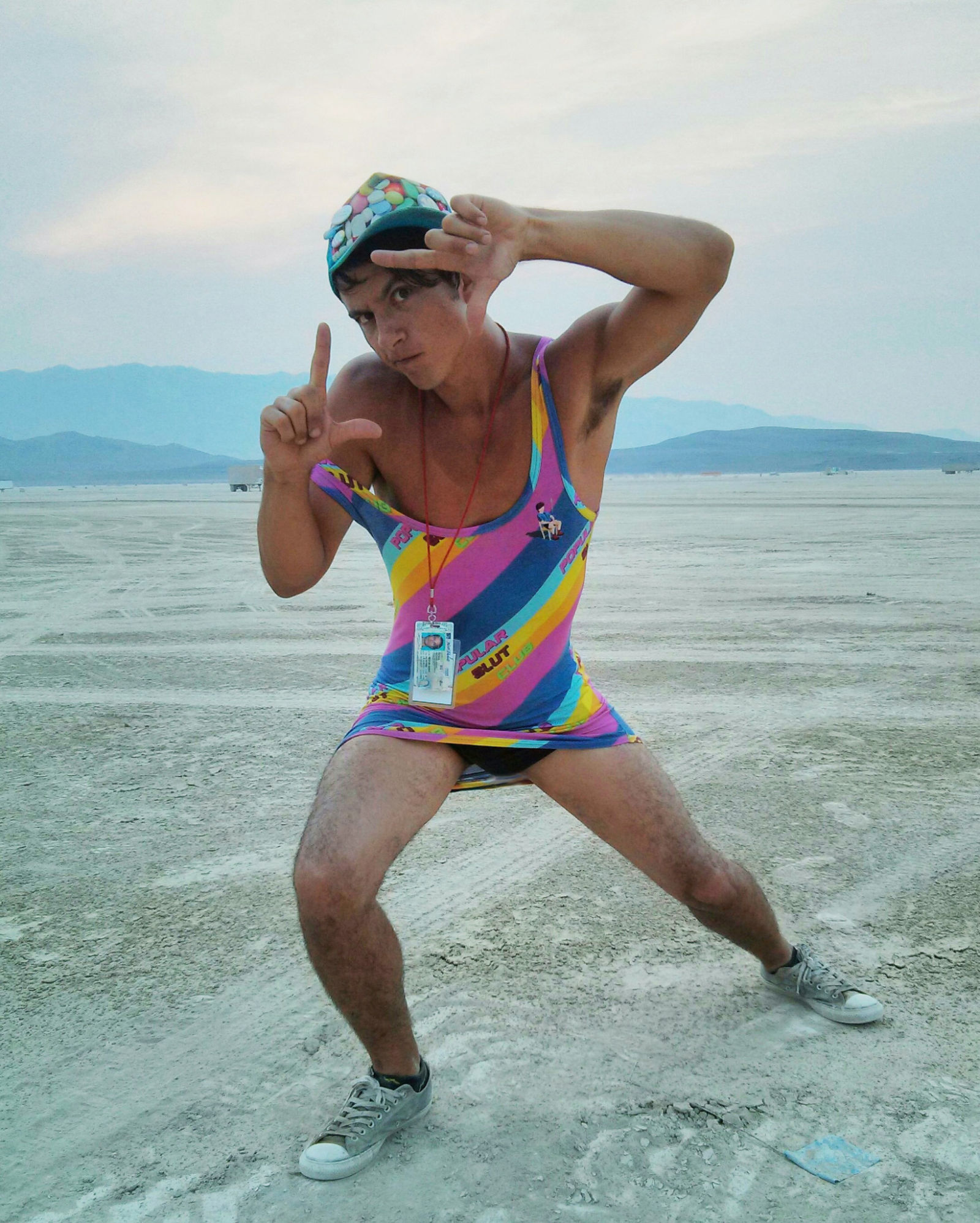 The fun doesn't stop just because the plebeians disappear. I saved my sluttiest suit for DPW's Last Supper.
Christina doesn't look excited, but she kicked Shade's ass this year.

It was my first year staying long enough to help with de-fence. It felt serene between the desert and arbitrary boundary of our playpen.
Black Rock didn't really quench my thirst for novelty this year. The obvious solution was to set back in the most roundabout way possible.
Our first stop was a bit sobering. A dear friend found out they had cancer shortly after the event and urgently needed surgery. They're doing better now, but cancer still sucks. We admired their live-in, bathroom frog while staying on their farm. He watched everything.
Back to Los Angeles! Vaughn's cat Venus greeted us in a box.
Jared thoroughly destroyed any notion I had of how majestic lions or tigers might be. Apparently, they're just big, stupid cats.
We stayed a night with Jared and his girlfriend. Their house was a zoo unto itself. They had five cats, two dogs, two snakes, a gecko, hedgehog, and were in the process of nursing this baby squirrel every two hours. It was hilarious.
To the Northeast! We spent the next couple days in D.C. This was my favorite exhibit at the Newseum, a museum on news and journalism. They receive a copy of hundreds of newspapers all over the world and most US states to put on display every morning. The bombings in Turkey were the most common story.
We visited the Capitol building. Unfortunately, it was under construction, inside and out.
The mezzanine above the main reading room at the Library of Congress was open because it happened to be a holiday. Natives discovered Columbus or something.
There were some planes on display outside between the museum and the headquarters. They were incredibly adamant we not take pictures of the buildings behind them unless we wanted a different kind of tour.
We got to hit the water on our first night in New York. Meatbag's friend Chris was awesome enough to give Joe, Christina, and I a moonlight Hudson River tour in his tiny raft-boat.
The water was so open and empty compared to Manhattan. You could get surprisingly close to the statue of liberty as well. There was just a ring of buoys marking a boundary around it.
We stopped to see the One World Trade Center and memorial pools. We missed out by not going up to the observation deck.
We stopped at the Museum of Modern Art. Lots of Picasso and iconic pieces alike.
I brought Joe and Christina to the NYU campus to hear professor Richard Wolff's monthly talk. He's a well spoken marxian economist who analyzes recent and major economic events. We were in the audience during this taping.