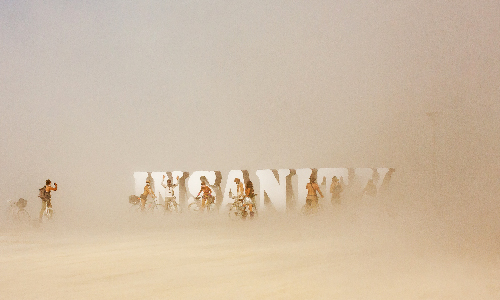 I watch in anticipation as my platonic life-mate puts his helmet on. He gives a nod and we raise our hands, sprinting towards the fire. The crowd has their backs turned and most of them don't even see us coming. We scream in mock terror, but the sound barely escapes our headgear. When we reach the perimeter of the flaming ship, we fall to our knees and begin crying in hopeless defeat. I start to hear people laughing nearby. After accepting our fate we begin walking back to the over-sized cat palace.
"Dude, that was awesome!." cheers a group as we pass them. We scan each individual carefully with our tricorders as they admire our space suits. They ask for photos and we strike a pose. Their fascination continues, and I eventually decide to cool off by removing my helmet.
"Cougar Bait!?" a man screams. I vaguely recognize him. It's only Thursday, but it's been a full week, filled with faces.
"That's the guy who fixed our trailer today!" he says eagerly to his friends. I recall them now, and the hour I spent earlier that day addressing their dire lack of power. I hung around after I plugged them in to make sure it was working, but I was busy and didn't loiter.
I bow in appreciation, but we usher on to our friends at the nearby cat palace. And so the night continued… (more…)